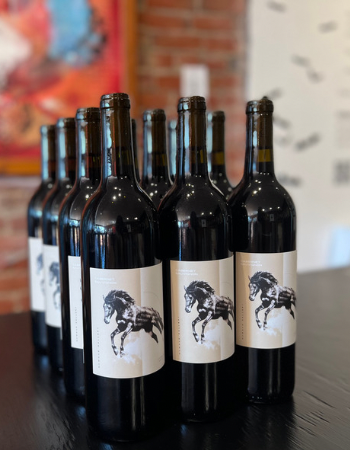 Rodeo Cab Sauv Case Sale

The Cabernet Sauvignon Nuwave is a special red wine made exclusively for Ellensburg and to celebrate the 100th anniversary of the Ellensburg Rodeo. It features an artist label created by Erin Oostra. Fun fact, the original piece is available for purchase.
$24 of every case special sold will be donated to Kittitas 4-H

It is considered non-vintage because it contains wine made from two different vintages (80% is 2020 and 20% is 2021)

The makeup is 40% DuBrul Cab, 30% Red Willow Cab, 20% Heart of the Hill Cab and 10% Copeland Merlot. (You can also just say a blend of DuBrul, Red Willow and Heart of the Hill Cab with a touch of Copeland Merlot)

100% neutral French Oak.

$300 per case (12 bottles); retail $540. That's a $20 per bottle savings!
$24 of sale goes to Kittitas 4H