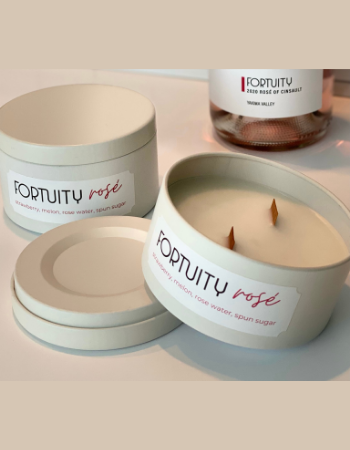 ODMÉ Rosé Candle
Beautifully hand poured by Cassie Ziegler, who grew up in the Yakima Valley, ODMÉ candles bring comfort and curiosity into your home with familiar and uncommon scents. The Fortuity Rosé scent is a collaboration of Team Fortuity and Cassie. We spent hours creating and testing this candle to ensure it showcases the beautiful notes in our rosé wine - strawberry, melon, rose water and spun sugar. Each candle sold will help a rural college student study abroad (#scentabroad).
Top Notes: juicy melon + ripe strawberries
Mid Notes: rose water + dewy hibiscus
Base Notes: sweet sugarcane
All candles are hand-poured for you using a smooth and silky vegan wax blend made of natural apricot and coconut. Our candles are always toxin-free, paraben-free, phthalate-free, and come from renewable sources. We use two wooden wicks in every candle for a touch of character and the soothing sound of crackling wood. Every wick is eco-friendly, clean-burning, hand-crafted, and made in the USA from FSC-certified wood.
White Metal Tin: 5 OZ., 3.5in W x 2in H Weight: 0.5 lbs. When burned property, candle will burn about 20 hours.
Custom scent designed by Fortuity