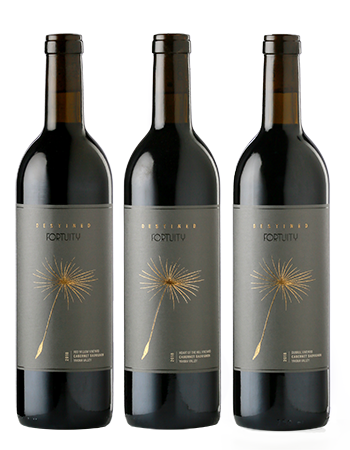 The Destined Collection (Cab)
Our Vineyard Designates: Red Willow, DuBrul & Heart of the Hill
From the very beginning we planted our flag in the Yakima Valley AVA. And the more that we learn about wine grape growing regions, the more we are reminded just how special Yakima Valley is.
In 2018 we sourced Cabernet Sauvignon from three of the state's top vineyards: DuBrul, Heart of the Hill and Red Willow. Each of these growers have been farming wine grapes in the Yakima Valley for decades and they are incredible stewards of the land.

The result is three wines - distinctive and spectacular in their own way. They are what we in the industry call vineyard designates, designed to showcase the unique terroir of that particular site.
$165 for the entire collection, a $195 value.
2018 Red Willow. Located on the extreme northwestern edge of the Yakima Valley, cool air flows easterly down the Cascade Mountains to the Marcoux block of Red Willow, helping to retain acidity and preserve the tangy red fruit flavors that are key to the wine's profile. Sitting between 1100-1300 feet of elevation, the gentle, south-facing slope of the block allows for more frost-free days, extended hang time, slower ripening and intense flavor development. The bright red fruit is complemented by plentiful, structured tannins, giving this wine great aging potential.
2018 DuBrul. Located in the center of the Yakima Valley on a south-facing slope is DuBrul Vineyard. Planted on Loess soil, the Cabernet Sauvignon grows uninhibited in this old vine 1997 block. Shaded by a western slope, this block is protected from the extreme heat of the day leading to beautiful herbal characters that are reminiscent of old world style wines. Layers of herbs, red fruit and leather are complemented by the delicate tannin structure of this wine. The aromas of this wine will continue to develop and will offer greater complexity as it ages.
2018 Heart of the Hill. Located on the far southeastern edge of the Yakima Valley, Heart of the Hill Vineyard sits mid-slope on Red Mountain. Not only is this the hottest vineyard site we source from, Red Mountain is the hottest AVA in the state of Washington. This heat leads to dark bold fruit, abounding tannins and high amounts of acid that will help this wine age for many years to come. While the soil profile of Red Mountain is mixed gravel, the windblown silt that continues to deposit on Red Mountain is prevalent in the wine's dusty tannin profile, a true signature of the AVA's terroir.