Experience Fortuity!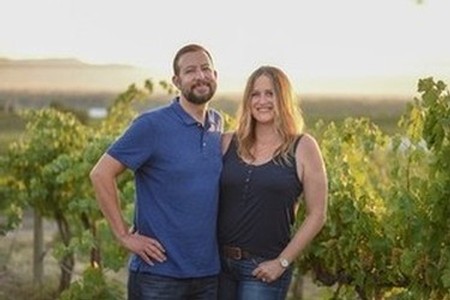 We can't wait for you to experience our new winery in the heart of the Yakima Valley!
We are so excited to welcome you out to our winery. You'll experience the Yakima Valley at its fullest, surrounded by orchards, the Rattlesnake Hills and mountain views.
Given we are a boutique, family-owned winery, we do have limited seating and reservations are encouraged (see below). We feel like this type of experience allows us the opportunity to share the full story of our wine.
If you prefer to sip wine at your own pace, you're welcome to stop by for a glass or flight on the patio or lawn; no reservation needed for outdoor seating!
We can't wait to see you,
Lee & Emily Fergestrom, Fortuity Owners
Tasting Room Hours:
Harvest Hours (September & October): Saturdays and Sundays, 12-5p (last tasting 4:15p)

Saturday, October 7 - 12p-4p (last tasting at 3p)
Make a reservation below.
Guided Seated Tastings - Reservations Encouraged: Owners Emily & Lee look forward to hosting you at the winery! As part of our reserved tasting, we'll welcome you with one of our favorite aromatic, bright, crisp whites and then enjoy a tasting of four additional wines. Please allow at least 75 minutes for your tasting. Light snacks and outside food is welcome on the winery patio and lawn, but not inside at this time.
Guided tastings are $15, and applied toward your wine purchase of two or more bottles per taster. Guided tastings are included in club membership.
While reservations are highly encouraged, we will accommodate walk-ups if seating is available. For group tastings of 8 or more people, please email Emily.
Casual Patio Sipping/Seating: For those wishing to go at your own pace, we invite you to have a seat on our covered patio, crush pad or lawn where we have a selection of wines by the glass, ranging from $10-18, or bottle. Please order at the bar inside the winery upon arrival.
Wine club members receive discounts on glass pours and bottle purchases. Seating is open; no reservations needed for this experience! Club member may reserve a patio table 24 hours in advance by emailing Emily. Last pour is 4:30 p.m. No buses without group arrangements, see below.
Group Tastings for 8 or more guests: Large group tastings (8 or more) are only available between 11a-12:30p, Saturday and Sunday, and Monday-Friday as available. Appointment required. We required a pre-paid deposit to secure your reservation; this deposit will be applied to the tasting room check. We provide large groups a 10 percent discount on their to-go wine purchases. We are happy to refund prepayment if cancellations are at least 48 hours before your appointment.
Private tastings, Monday-Friday: We welcome any size group for private tasting, outside of our normal business hours and as schedules allow. Please email Emily for more information, emily@fortuitycellars.com. Prepayment is required and may be applied toward purchases. We are happy to refund prepayment if cancellations is made at least 24 hours before your appointment. Please arranged your tastings with Emily, emily@fortuitycellars.com.
Please take a moment to read these additional tips so you can be sure to have a fantastic visit:
The Fortuity Experience: We chose this property because it is in the heart of Yakima Valley agriculture. You're surrounded by orchards and have view of the Rattlesnake Hills. We are family-owned and operated, and as such owners Lee & Emily Fergestrom will conduct reserved tastings with you. You will enjoy a sampling of our current release wines.
For those wishing to go at your own pace, we invite you to have a seat on our covered patio, crush pad or lawn. We'll have a selection of wines by the glass or wine flights. On windy days, we do serve wine outside in HaloVinos (sommelier designed and owned - with wine aromatic in mind!). Though we strive to keep the space warm with heaters, please be mindful of the weather.
Plan your day! Please allow at least 60 minutes for this tasting, after which you are welcome to enjoy the winery patio and lawn. Your prompt arrival is appreciated and guests running more than 15 minutes behind may be asked to reschedule or join us on the winery patio or lawn for a glass of wine!
Where's the winery: We are located at 160 Lombard Loop Road, Wapato WA. When you turn into the winery property (past the Fortuity Cellars sign), go straight back to the tall, grey building at the back of the property.
Arrival: When you arrive, please check-in at the host stand. Reserved tastings are conducted inside with owners, Emily & Lee. If you'd prefer to sit outside, we can discuss this upon your arrival.
Babies and kids: We ask that children remain seated with you and under your direct supervision the entire time of your reservation, in order to ensure proper social distancing for our very limited seats.
Given the structured nature of the indoor reserved tasting and seated arrangements, you may find it more conducive to sit outside on our covered winery patio or lawn.
Payment: Our preferred method of payment at this time is credit card.
Food & beverages: Due to our scheduling and location, outside food is welcome on our covered winery patio or lawn. We encourage you to pick up a pizza from Hoptown Pizzeria or street tacos from La Placita. Outside alcoholic beverages are prohibited. We do have wine-friendly snacks available for purchase, as well as sparkling water and local beer.
Large Parties: Please note that large parties must have a reservation. See above. We do not allow organized events (like birthday parties, bridal showers, surprise engagements) without a reservation and paid advanced event fee.
Pets: Due to our resident pets, we welcome only well-behaved, leashed dogs (good with kids, other dogs, etc.) on the lawn or patio. Dogs are not permitted inside the winery. Please clean up after your pet.
Protecting your wine: If you are planning to visit multiple wineries, we highly encourage you to bring a cooler or other insulated box to protect your wines. Wine does not like extreme temperatures (hot or cold). No one wants a bottle to blow its cork (and contents). That would make you sad!
Wine-tasting season: We are open Spring through Fall, exact dates to be determined.
We are looking forward to your visit and please don't hesitate to contact us if you have additional questions.